Click here to see the future work programme.
---
Footpath 34 - Before and after
Pictures of the path between Mill Lane Bedhampton and Meyrick Road and some of the team with well earned coffee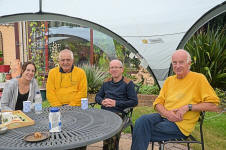 April 2016 litter pick
Storm Damage on the Billy Trail
A yacht that broke free, damage to the recent work of HCC and yet more damage. (Feb 2016 Pictures by John Worley)
Our Elms survive Flood Protection Work
These are six elms which we planted at Portcreek in 2004.
They were recently surrounded by the major flood protection work but happily they were protected by the contractors.
Milton Locks Work Party 31st October
Six of us spent about 3 hours clearing bramble and poplar suckers on the reserve.
Sea Wall & shore paths erosion
These pictures illustrate how erosion is affecting parts of the shore round Langstone Harbour. The first picture is of the Billy Trail south of the oyster beds car-park, the second of the bank of the oyster beds lagoon and the last two of the Southmoors sea wall. In the third picture you see the end of work done recently by the Environment Agency and how the sea is making a gap round the new gabions and in the last picture the back of the sea wall is being washed away by overtopping. The EA work can be seen beyond the erosion. The Billy Trail erosion is 'politically' hot. FoLH view is that protection of this part of the path, which is not at present a public right of way, by hard defences i.e. concrete or gabions would not be appropriate.
Work Party on the Harbour-side path at Hilsea October 2014.
Our Elms and Ali's Hedge
We planted two sorts of disease resistant elms at the Portsmouth Watersports centre in2003. The 'lutec' cultivars have not done very well and there are now just a couple surviving (first picture). The 'white elms' are smaller but doing quite well. And much better news is the state of the hedge we planted for Alison Went in 2005 (third picture)