Wildlife Pictures
---
Pictures on this page are thumb-nailed. Click on them to see the full size image.
If you have pictures that you think would look good on these web pages I would be happy to see them and probably publish them here. Send them as attachments to an e mail to john@havantnature.net. It helps me if the file name is changed to 'species - your name'. That way I won't use your picture in future without giving proper credits. Thanks in anticipation.
---
In a Clanfield garden - Oct 2017
A wasp spider and a digger wasp in Mike Berry's Clanfield garden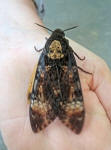 Deaths head hawkmoth at Blendworth in July.
Photos taken by Adele Mallows
Mid July on Portsdown
Bastard toadflax, clustered bellflower and lesser centaury.
A Walk into W Sussex
The first two pictures are moschatel then primroses, ransoms, small tortoiseshell, common dog violet and a white violet (?Sweet violet)
The Langstone Pond Water Rail on 22nd Feb
Southsea Gulls on 18th Jan 2016
These two pictures by Peter Hogan are of a first winter Iceland gull and a glaucous gull - at Southsea on the same day!
Ichneumon stradentarius
Seen in a Portsdown house on 15th July.
Buff tip moth in a Denmead garden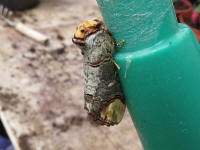 Picture by Steve Frampton
Portsdown Plants in June
Dropwort, knapweed broomrape, dog rose and common valerian.
Portsdown 13th may 2015
Early gentian pictured by Richard Jones and an old lady moth.
Butser Hill Walk 13th May 2015
1. Among the orchids. 2 & 3 early purple orchids 4. Herb Paris. 5 Dryads saddle 6. Around the fungus.
Long Copse Hill flowers - 21st April 2015
Bee-flies in a Clanfield garden.
Pictures taken by Mike Berry of a dark-bordered and a dotted bee-fly in April..
Stansted Fungi
Pictures taken on 14th November. I think they are parasols, an unidentified bracket and yellow brain.
Geophylus Sp on Portsdown
A myriapod that lives underground or in damp leaf litter that had been disturbed by conservation volunteer raking.
Gail Featherstone's pictures of a white squirrel.
Roe deer on Portsdown
Peter Hogan's picture taken in June.
White squirrels in Jubilee Park Waterlooville
This picture, sent to me by Emma Smith, is probably of the same two squirrels whose picture appeared in 'The Times' on 25th May.
Buzzards over Portsdown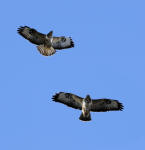 ---